www.

planet

-

diabolo

.com
welcome
to the
diabolo
universe
3 DVDs COLLECTION
NOW AVAILABLE!

store
---
Rent / Buy "Diabolo is a trip"
Duration = 102 minutes + Free EXTRA FEATURES
SUBTITLES
---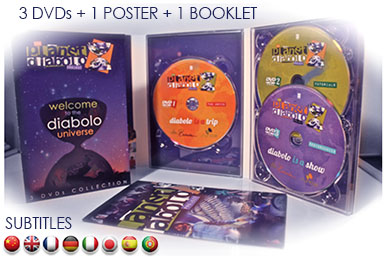 Buy the DVDs Box in a real shop
The Planet Diabolo DVDs Box is distributed by all the main juggling distributors, so it should be available in any juggling shop of the world.

If your regular shop does not have it yet, just tell the seller to order it to his regular juggling distributor or directly to us using our contact page.
---
Buy the DVDs Box online
To order the Planet Diabolo DVDs Box online, please choose your country of location to see the online shops we know in this country.
---